Birble is a variant of the popular game by Josh Wardle, now owned by The New York Times, Wordle, which can be played here.
---
Birble was created and is maintained by Andrew Robison.
If you have any questions or concerns, please contact the developer.
---
How to Play
Guess a five-letter word. If a letter is not in the word, its box will appear grey. If a letter is in the word, but not in the correct location, its box will appear yellow. If a letter is in the word and in the correct location, it will appear green.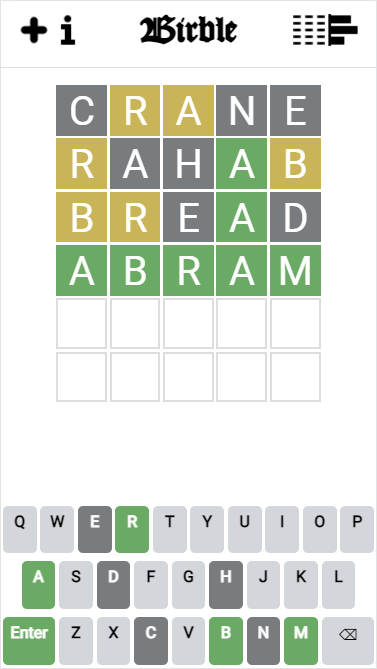 The keyboard letters will also change color to match the letter boxes to help you in guessing.
Your guess must be a word found in the list, which is made up of all the five-letter words in the King James Version of the Bible.
All answers will be words from the list.
Release Notes
Birble v1.6 ━ "The Fight Against Arthritis" October 10, 2022
---
━ Streak added! Your streak will begin the first time you complete a daily challenge, starting October 10, 2022. Every day you play, your streak will increase. If you miss a day, your streak will reset!
━ Do you prefer to type with one hand? You can now tap the small arrow on either side of the keyboard to move the keyboard closer to the side you prefer. Your browser will remember your choice each day. You can always change this by tapping the arrows whichever direction you like.
Birble v1.5 ━ "Darkness Was Over the Face of the Deep" June 1, 2022
---
━ Dark mode added! When your device is set to dark mode, Birble will automatically adjust to match those settings to ease your eyes.
Birble v1.4 ━ "Make it Your Own" February 28, 2022
---
━ Results Share button now on end screen of Birble and Birble+
━ QR Code and Bible Share buttons added to game screen
━ Add to Homescreen functionality improved. Users may want to remove and re-add to homescreen to see the aesthetic changes.
Birble v1.3 ━ "Safe!" February 25, 2022
---
━ HTTPS SSL certificate now active.
Birble v1.2 ━ "Fuel Your Addiction" February 22, 2022
---
━ Daily Puzzle is now active!
━ Users can continue playing on Birble+
Birble v1.1 ━ "Share It!" February 18, 2022
---
━ Game now stores players' win counts locally.
━ The stats screen now displays a graph of players' wins.
━ Players can tap the results to copy to clipboard for sharing.
━ Upon ending the game, the first verse in which the word is found is displayed.
━ Now accepting keyboard input on desktop!
Coming Soon:
━ Daily Puzzle
Birble v1.0 ━ "In the Beginning" February 17, 2022
---
━ Game is playable; players receive a new word on every refresh. WARNING: Don't leave the page if you aren't done with the puzzle and want to finish.
━ Added Information page, Word List Page, Contact Page, and Stats popup (no locally saved stats yet).
Coming Soon:
━ Players' progress and stats stored locally.
━ Share Button
━ Daily Puzzle